Last updated 6/2/2002
Part One : An A to Z guide to the Japanese MR2 Turbo.
[ Previous part of FAQ :: Next Part of FAQ ]
[ Air Conditioning :: Aerial :: Brakes :: Catalytic Converter :: Clutch :: Coolant :: Cruise Control :: Date of Manufacture ]
[ ECU codes :: Engine Output :: Exhaust :: Garages :: Gearbox :: Handbooks & Manuals :: Insurance ]
[ Lights :: Limited Slip Differential :: Mailing Lists :: Modifications :: MR2 Turbo Year/ Model Identification :: Oil :: Options : ]
[ Paint :: Parts Suppliers :: Servicing :: Tuners :: Spark Plugs :: Speedo :: Speed Restrictor :: Steering, Geometry and Alignments ]
[ Switching Off :: Timing Belt :: Traction Control :: Turbo :: Tyres :: Wheels :: Windscreens :: URLs and Links ]
This MR2 Turbo Frequently Asked Questions (FAQ) has been written for the benefit of UK owners of Japanese MR2 Turbos. Often these cars are sold without any documentation, leaving owners without answers to even the simplest questions, and although supportive UK Toyota dealers are often unable to help as the Turbo was never officially sold in the UK.
The FAQ is not intended to duplicate information on "standard" Normally Aspirated (NA) Mark 2 MR2's sold in the UK - information on these models is available through mailing lists run by the International MR2 Owners Club (IMOC), IMOC-UK branch, or directly from the MR2 Drivers Club (MR2DC) as well as Toyota UK.
FAQ Structure
Part One of the FAQ provides an A to Z of answers to common questions on the MR2 Turbo. Part Two gives some hints and tips on buying an imported MR2 turbo in the UK. Part Three gives details of common problems and cures for the Mk2 MR2.
It is strongly recommended that if you intend to do any work yourself on the car, you should buy a set of Toyota Workshop manuals - although these are expensive they will rapidly repay their outlay in saved labour charges!
Acknowledgements and Disclaimer: This first part of the FAQ is based upon a document written by Alan Schofield, with additional information I have collected from the International and UK based MR2 mailing lists. This FAQ makes no claims for comprehensiveness, and additional material is welcome. No information that is provided should be taken as a recommendation of any kind.
---
The A to Z Guide to the Japanese MR2 Turbo
Air Conditioning & Climate control:
The Turbo comes with a factory fitted air conditioning system which provides an 'automatic' setting that doesn't generally appear in this country. The GT models got Climate control, which allows the speed of the fan to be varied to ensure that the temperature set is constantly provided. A light sensor on the dashboard surface is used with temperature sensors to adjust the speed of the fan to provide cooling or heating as required.
For all 90-92 MR2s some problems with air-conditioning units were found (faulty expansion valves) and US models were recalled for modification. Any such faults in privately imported cars in the UK would not be covered by recall guarantees.
The electric extending aerial is a standard fitting to imported MR2's. On older cars, the plastic cord inside or the drive teeth can fail, but the good news is most parts can be replaced without having to buy a complete new unit costing £150.
The standard front brakes on the turbo are double piston brake calipers, combined with big vented discs to provide appropriate stopping power suitable for the turbocharged engine. Brake performance for US specification turbo models is cited as 112 feet from 60 to 0 mph.
The original disks used on the 90-92 models (including the UK NA) were upgraded to larger disks and pads in the models from 92 onwards. Under fast road / light track use the earlier 90-92 brakes can overheat, and have been seen smoldering coming off track.
ABS seems to be common on imported MR2's, but not all cars have it. If fitted, when the engine is started an 'ABS' indicator on the dashboard should light up for a few seconds (as the system self checks) and then go out if no faults are found. The ABS system is located under the front bonnet, to the left of the spare wheel under the trim panel.
Front brake pad wear on the turbo is higher than average (around 20,000 miles for a the 92-on models) but both front or rear pads appear to be the same parts as for the UK MR2's. The pads wear more rapidly on the inside than on the outside, so the wheel needs to be removed to check the amount of material left.
Prices for sets of replacement pads are £45 for the front and £60 for the rear, and are readily available from Toyota dealers, as they are identical to the pads fitted to the UK models of a similar year. High performance brake pads and drilled and grooved drilled discs are available from Fensport (see 'contact points') although the standard Toyota pads on the 92-on cars provide excellent performance for both road and light track use. High performance brake pads are also reported to cause more rapid wear of the brake discs.
On older cars, the seals on the ends of the handbrake cables can perish, allowing dust and water to enter. This causes problems in winter, when the water present can freeze, stopping the handbrake being released after parking overnight. Replacement of these cables at around £50 per side is the only cure.
Catalytic Converter
In order to meet Japanese emissions standards, a single catalytic converter is fitted directly to the exhaust downpipe from the turbo. A 2 wire ( for revision 1 & 2 car ) or 4 wire oxygen sensor (revision 3 onwards) is also used by the ECU to optimise the fuel/air mix.
There is a MOT loophole which allows Japanese Imports with no direct UK equivalent combination of engine and Chassis be tested as a non-cat test - this loophole exists as the MR2 Turbo is not specifically listed in the UK testing supplement. Later (1995-on) cars do need a catalytic converter. A scan of the page from the MOT testers handbook is available here
Removing the cat improves turbo spool-up time, but engine and turbo both need to be in good condition to pass the 'non cat' emissions test.
The clutch is hydraulically operated, and is often found to be heavier in operation than most cars - this is due to combination of the power that has to be transferred engine to the transmission, and the loss of grease from internal pivot points. When replacing the clutch, light greasing of the relevant internal pivot points is highly recommended, and is reported to make a significant difference in the 'weight' of the clutch.
The life of the original Toyota clutch will vary on the type of driving the car has been used for - 100,000 miles on the original clutch is possible, but 70-80,000.
The standard clutch has been used with modified engines producing upto 300bhp - above this the standard clutch cannot handle the torque the engine produces and a higher performance clutch is recommended. However, higher performance clutches can be more 'grabby' and difficult to drive in stop-start traffic.
Clutch replacements are available from Toyota - some IMOC-UK members report a 'budget' and standard clutch is available for fitting by dealers, the standard clutch is strongly recommended. Alternative 'performance' clutches are availablefrom Fenport (Helix) and also from the US ACT TM1-HD00 clutch and lightened flywheel from the US and Helix clutches supplied by Fensport.
The table below gives some of the useful contact points turbo owners have found. The IMOC-UK website also has further recommendations, including a useful dealer locator.
Servicing

Your Local Toyota dealer should support your import, following this statement from Toyota GB. However, some Toyota garages still turn away imports, notably in the North of England and in the Readling/Slough area. Local MR2 specialists however are however capitalising on this!
Chris Wilson - In the Liverpool/ Shrewsbury area.
MRD - Mental Racing Development. 0151 931 2227 - based in Liverpool
Gerald Dale Motorsport in Surrey - 01424 855100 - have experience of extensive internal 3S-GTE engine modifications.

Parts
New:

Toyota Dealers - Get the genuine part, but pay top money.
From the US: Jeff Watson at Jay Marks Toyota, 00 1 800.327.2087 as dialed from the UK, www.toyotaworld.com , jwatson@toyotaworld.com.They give discounts to IMOC members, so mention the IMOC. You are best ringing them directly to place your order. Parts from the US can be significantly cheaper than the identical part purchased in the UK, even after paying shipping costs and any taxes. Note: Parts ordered from the US are liable for import duty (10%), VAT (17.5%) and handling fees (Parcelforce typically around £10 ). However you may avoid paying these duties if the value of the goods ordered is under £100
IMOC Discounts (Redline Oils, Magnacore, Carbotech, Bookatrack.com ...) Available to all members of the IMOC-UK mailing list. See www.imoc.org.uk for details.
Blueprint : These are pattern part equivalents to most Toyota parts - available from your local Blueprint part supplier, or Fensport.

Second Hand - usually from cars written off and broken up:

Fensport, Ely - 01354 696968 - can source Blueprint equivalents to parts as well as all the service items needed for the turbo
Toyota Celica Breakers
Club MR2 - www.clubmr2.co.uk have a large selection of parts
First Choice: Offer a brokering service to breaker's yards allowing you to specify the part you need, and the breakers ring you back with a price including delivery - useful if you are after parts shared with a UK model.
Jap Parts - http://www.japparts.com
Interpart - http://www.intapart.co.uk/

Modifications

Fensport - Provide a comprehensive range of parts from intake and exhaust systems through to rebuilt Turbos and bleed valves to increase the turbo boost.
MRD - Mental Racing Development. A range including uprated turbo wastegate actuators, rebuilt turbos as well as their own body kits.
Owen Developments, Oxford - a number of IMOC-UK members have had Unichip ECU upgrades fitted and had them mapped on their rolling road. Also specalise in supplying reconditioned turbos, including up rated units.
Gerald Dale Motorsport (as above) - One list member is having his 300bhp 94 Turbo rebuilt aiming at 400bhp+
turboimports.com - a US based website selling a wide range of devices including electronic boost controllers
Powerstation - specalise in tuning for GT-4's but some of their knowledge of the 3S-GTE turbo engine can be useful for the MR2 as well.
TDI Development, PLC London - Specalise in performance tuning for Japanese imports.
Option Motorsport - 01327 858555, near Silverstone. Supply parts including MINES ECU's for MR2 Turbos, and also import cars directly from Japan.

Note: Obviously great care is needed before embarking on any performance upgrades - your car must be initially running trouble free as modifications will only further expose any existing problems. Remember to check the insurance implications of any modifications! It is noted that the UK MR2DC insurance scheme run by the Dorset Insurance Group does not penalise small modifications to MR2's, but the likes of ECU upgrades will increase the premium.

General Parts

Demon Tweaks - 01978 664466 - More or less anything and everything, including the range of Redline Gearbox oils, helmets for track days, and miscellaneous tools
Toyota Forlife Engine coolant is standard for all MR2s, costing around £15 for 4 litres pre-mixed. A coolant change at the 48,000 mile 'C' service is advised in the servicing schedule. The Toyota branded 'Forlife' coolant is Ribena red initially, and with age it turns from red to brown, then muddy brown for very old coolant.
The Turbo takes 15 litres of coolant, and due to the size and complexity of the cooling and air bleeding system (with 4 separate bleeding points) it is recommended that this job is done at a Specialist or Dealer - air locks in the system can cause serious engine damage through overheating.
Cruise control was on option available for 92-on MR2 Turbos.. However, why anyone should want cruise control on a MR2 is a mystery!
A few cars arriving into the UK are actually older than the registration or number plate documents suggest - beware 1990 cars being sold as a '94 models, for example. A simple check is to look at the date of manufacture on seat belt tags, but for definitive information on the Year and Month of manufacture the Chassis number should be used. For cars upto the end of 1993 teh chassis number can be cross-referenced to the table at http://www.mr2.com/TEXT/MkIIProductionInfo.html .
Based on this information, it appears that many of the US spec cars were produced in Japan upto 12 months before they were delivered - especially seeing as production of the MR2 in Japan appears to start in October '89, with the first models arriving in the US in late 1990.
Here are some pictures of MR2's being built in 1993 in the factory in Japan, taken by the Netherlands MR2 Club
Paul Mouland and three friends (Hiroki Sato, Tony McDaid, and Ken Skinner) have researched the correct computer error codes for Japanese turbo models.
Error codes are generated when the Engine Control Unit (ECU, or SMPI system in the workshop manuals) receives an abnormal signal from a sensor. These error codes are stored, and can cause the check engine light to appear on the dashboard. It appears that MR2s destined for different markets can have different error codes, although the majority of error codes are shared across all variants. Some UK dealers have been able to successfully use UK diagnostic equipment to diagnose faults on 92-93 Japanese MR2 Turbos.
The error codes can be extracted from the ECU by carefully linking (and do this at your own risk) the TE1 and E1 connectors on the gray diagnostics connector, whilst the engine is switched off (eg using a highly calibrated paperclip!). The picture below illustrates the diagnosis connector and the locations of these connectors - top right and middle-middle on the left hand side block of connectors - note they're covered with a good dollop of grease.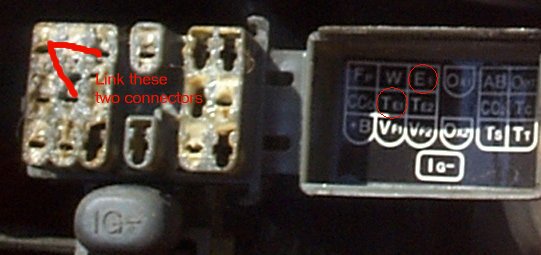 If you then turn the ignition to the second (normal running) position, the engine symbol on the dashboard will begin to flash. Continuous steady flashing shows no error conditions are stored. If error codes are stored, they are kept as a two digit code, e.g. 2 and 3 flashes is the code 23. For a good explanation of this process see Dennis's Celica GT4 page.
To do further diagnostics you need a workshop manual, see 'handbooks/manuals' below. A summary of the error codes is given below:
| | | |
| --- | --- | --- |
| Codes | Item | Page Numbers in Japanese Manuals |
| 2/31 | Inhalation pipe pressure meter | 2-26 |
| 3/14 | Ignition indicator (except cars with DLI, DRD) | 2-28 |
| 3/14 | Ignition indicator (for cars with DLI, DRD) | 2-34 |
| 4/22 | Water leak indicator | 2-44 |
| 5/21 | Dx indicator | 2-46 |
| 6/12-3 | Tachometer | 2-50 |
| 7/41 | Throttle indicator (cars with linear sensor) | 2-52 |
| 7/41 | Throttle indicator | 2-54 |
| 8/24 | Inhalation temperature indicator | 2-56 |
| 9/42 | Speedometer | 2-58 |
| 10/43 | STA indicator | 2-66 |
| 11/51 | Switch | 2-68 |
| 11 | +B (except cars with step motor type ISCV) | 2-72 |
| 11 | +B (for cars with Step motor type ISCV) | 2-78 |
| 23 | Evaporator temperature indicator | 2-84 |
| 31,32 | Air flow meter (except cars with carman whirlpool air flow meter) | 2-86 |
| 31 | Air flow meter (for cars for carman meter) | 2-88 |
| 32 | Atmospheric pressure meter (7M-GTEU) | 2-90 |
| 33 | ISCV meter | 2-92 |
| 34 | Circulation pressure supply (?) | 2-96 |
| 31 | Circulation pressure supply (?) | 2-100 |
| 35 | Turbo pressure meter | 2-102 |
| 52,53 | Knock indicator (sensor) | 2-106 |
| 54 | Inter cooler | 2-108 |
| 01 | Data communication | 2-114 |
Paul hopes to provide further information on the mysteries of engine codes on his Web page, so for further information contact him at: http://dspace.dial.pipex.com/town/estate/xdt30/.
The turbo's 3S-GTE 1998cc 16v DOHC engine is an evolution of the 3S-GE used in the UK specification MR2s, but actual engine output, and therefore performance, varies depending upon the two turbo versions that have been produced, as follows:
For Japanese specification cars output on 98 or 100 RON fuel is- 1989-94 : 225 ps (~220bhp), 1994-on: 245 ps (~241bhp).
Although the 90-94 model engines all share the same power output, the 92-94 models had a number of modifications to the internals of the engine including larger exhaust valves and ports, and an improved stud pattern for the exhaust manifold to prevent warping which was a problem with the 90-92 cars. All 90-94 cars were turbocharged using a Ceramic CT-26 turbo at a factory boost pressure of 10psi.
The engine in the 94+ models was extensively revised with larger fuel injectors, lower cylinder compression ratios, a new CT-20 turbo now running at 13psi and a new ECU. As a result Toyota were able to extract a 20 further bhp from the 94+ engine.
For US specification cars output is- 1990-on 200 bhp.
Claimed top speed for the US specification turbo is 151mph, so the higher performance Japanese models should see in the region of 155-160mph. Running the Turbo at these speeds for prolonged periods of time is not recommended by Toyota due to the heat buildup around the Turbo, which could lead to turbo failure. Toyota recommend a maximum cruising speed of 130mph for those off to German Autobahns or Airfields, with 150mph+ speeds only for short periods.
One owner (Paul Mouland) has electronic verification that the 0-60mph time in his 'standard' 1993 220bhp turbo is 5.87 secs, and this when it was not completely healthy, due to a faulty throttle position sensor. For those that have been to 1/4 race strips, typical times are around 13.8 to 14.5 seconds for standard Japanese cars. The speed traps at the end of the 1/4 mile typically show terminal speeds of 95-100mph, giving an approximate 14second 0-100 time.
On a recent Banzi magazine MR2 shoot-out, an owner of a 300bhp tuned 1994 Turbo was able to achieve a 4.94s 0-60 time on a damp airfield surface. For comparison, acceleration figures for the US specification model with 200bhp are said to be in the region of:
0-30 = 1.9secs; 0-40 = 3.1; 0-60 = 6.4; 0-70 = 8.4; 0-80 = 10.8; 0-90 = 14.5; 0-100 = 18.1
For the Japanese MR2 Turbos it is expected the figures would be similar to or better than what Paul Mouland found, based upon the engine's higher output.
For reference, a US MR2 Turbo owner has completely rebuilt his 1991 3S-GTE engine with new parts, and has taken many pictures of the process. They are available here.
The 3S-GTE is also used in single seat race cars - here is a 900bhp engine prepared by Toyota Racing Development (TRD)
The exhaust system is not the same as on the UK cars, and in addition to ordering replacements via Toyota dealers, alternative suppliers include:

Dealer / Exhaust Manufacturer
Contact Points:
Scorpion Exhausts
Contact their head office and ask for a local distributor: Ripley, 01773 744123
Mongoose Exhausts
Head office: Congleton - 01260 279604
A full Turbo back system is available for around £380
Dealers: Need for speed . Note some owners have reported poor fit of the exhaust with tips being too close to the plastic bumper, and the tips being too short leaving soot on the bumper.
Custom fabrication
For similar cost to one of the above systems, a system can be fabricated to your own requirements - tips, noise level etc. A typical system would cost between £350 and £500 to fabricate at a local specialist. Dealers recommended by IMOC list members include :

Tube Torque - Macclesfield 01625 501900 (Mk1 SC)
Exhausts by Design, Milton Keynes - 01908 507117
Hayward and Scott - Basildon - £400+vat for exhaust, £110+Vat for cat replacement pipe.
Toyota original part
A Replacement rear box available for around £165
Some owners have been able to successfully fit performance exhausts designed for US specification MR2 Turbo's to their Japanese MR2's. Some owners have even imported systems directly from Japan.
For reference, the standard exhaust system is 96dB at 4k rpms - Japanese JASMA approved exhausts have to meet a 98dB noise limit for Japanese road use - some meet this requirement by the inclusion of an 'insert' into the exhaust tip which can be removed.
In Japan, unleaded fuel is either 98 or 100 RON, and this is what the MR2 Turbo was intended to run on. Some owners have been able to run their Turbos successfully on UK Unleaded (particularly 94+ models) which is only 95 RON, but if the engine knocks the ECU will retard the timing and so reduce the power output of the car. The earlier 90-94 turbos with the higher compression engines are more sensitive to fuel octane than the 94+ cars, and seem to require the use of 98 Octane Super Unleaded to avoid knocking.
Typical fuel consumption figures are around 26 mpg for a mix of town and motorway driving, and at worst 22-24 mpg around town in Winter, with highs of 30 mpg on motorway trips.
An owner with a '95 Turbo has also reported that an Unichip ECU upgrade also improved fuel consumption to 34mpg on motorways trips.
There is a useful page describing the differences between European and Japanese RON, and US 'octane' here
See Contact Points above
As of April '99 Toyota is intending to offer limited formal support for imports - see this document. They will be the first Japanese manufacturer to do so in the UK. However, Toyota have reserved the right for a dealer to charge a premium on the hourly labour rate due to work being completed on a non-UK specification car.
Some Toyota garages apparently are unaware of this recent statement by Toyota UK, and still turn away imports, giving reasons such as to insurance and training of mechanics - this seems particularly a problem in the North East, North West, and Reading areas of England. In this case please refer the garage back to Toyota UK, who should brief them on the above document, and they should be able to assist owners of these cars.
The gear box for turbo models is different from the non-turbo models, complete with different gear ratios. It is rumored that as the US, Turbo's from 1993 onwards have a Limited Slip Differential fitted as standard. It is not known if this was also the case in Japan.
For 1994 onwards cars the gear ratios for turbo models as compared to normally aspirated ones are:
| | | |
| --- | --- | --- |
| | GT/GTS (turbo) | G/G-Limited (non-turbo) |
| 1: | 3.230 | 3.285 |
| 2: | 1.913 | 1.960 |
| 3: | 1.258 | 1.322 |
| 4: | 0.918 | 1.028 |
| 5: | 0.731 | 0.820 |
| Final: | 4.285 | 4.176 |
The Turbo's gearbox needs 75W90 GL-4 rated oil, and has a capacity of 3.8 litres for those with a LSD, and 4.1 litres for those without. For those with notchy gearshifts, the US owners highly recommend the Redline range of Oils, which can be obtained in the UK via Demon Tweaks on 01978 664466.
Redline MT-90 and the slightly more expensive 75W90NS synthetic gearbox oils are recommended for all gearboxes.
For very notchy gearboxes some owners have used MTL 75W80 to help, but note this is thinner than the oil that Toyota specify. This oil is more commonly used to smooth shifts on the Mk1 NA.
Handbooks of the kind which accompany all cars are either unavailable, or else written in Japanese. The Japanese manual is not particularly helpful as it lacks technical information but instead has large numbers of cartoons. A UK spec MR2 owners manual can be purchased from Toyota for general information on the MR2.
Toyota Workshop manuals are an essential reference if you are intending to perform any kind of diagnosis or DIY work on the MR2 Turbo. There are two routes to getting them:-
Get UK Toyota Workshop manuals for engine of the Celica GT4 turbo (i.e. the same engine as the MR2 turbo) and the normal bodywork manual for the standard MR2. The two will cost around £60 from Toyota dealers.
Alternatively, order the US engine and body workshop manuals for the US MR2 Turbo - but there is the risk of information given there not being appropriate for the Japanese Turbo.
Selected pages from the US Workshop manuals are now appearing on internet sites - Some copyright issues may apply, so beware using this site
Note: Some of the wiring for the Japanese Turbo is different to both the UK and US models, so buying the wiring manuals for the MR2 from either the UK or the US may not provide you with the correct diagrams.
The insurance premium charged for the turbo seems to be based on the standard UK GT plus a 25% weighting for the turbo, or alternatively on a Group 20 basis. Premiums typically seem to be around £700-£1000 based around a full NCB with no recent accidents or modifications to the car.
Many mainstream companies are now willing to insure the MR2 Turbo - but you must ensure that you disclose any modifications on your car to avoid any claim being refused in future. Many are unwilling to accept any modifications other than cosmetic. For modified cars, the insurance scheme run with the Dorset Insurance Group by the MR2DC is worth investigating, as they are happy to provide quotes for modified cars, and provide as standard cover for non-competitive events such as Airfield trackdays.
For details of insurance companies, see Mitch Canny's Insurance page which gives useful contact numbers and customer stories.
For cars brought into the UK, white sidelights are required for the MOT as well as a rear fog lamp. The Japanese pattern headlights and fog lights are accepted in the UK by the DETR.
Limited Slip Differential (LSD)
For models produced intended for the US, from the model revision in late 1992 onwards a limited slip differential was standard for all Turbos - previously in the 90-92 model years it was an option. It is not known if a LSD was also standard for Japanese Turbos from '92 onwards, although its appears to also be the case.
To verify if your car has a LSD, check the vehicle identification plate on the inside of front bonnet. There are a number of codes given there, including the transmission type, whose code starts with the sequence "A/TM"
For example, A/TM:- 735/E153
If the last digit before the /E153 is a '3' or a '5' then the car has a LSD - therefore in the example above it does.
The second part of the code is the transmission type- E153 is a heavy duty manual transmission for the Turbo.
Also see this page on mr2.com for more information.
Mailing lists
There are two MR2 E-mail discussion lists, covering all makes and models of the MR2. These have been the source of much of the information in these pages.
The IMOC-UK (International MR2 Owners Club - UK) based e-mail list is available here. Typically around 35% of members have imported MR2's . A typical volume of messages from this list can be around 60 to 80 messages a day.
The original North American IMOC list (International MR2 Owners Club) has typically 80 messages a day.
Therefore if you have a question that is not answered in any of the three parts of this FAQ, feel free to ask on either list, or to contribute to the various MR2 discussions.
Common modifications on imported cars include:- (also see Specialist tuners in Contact Points)
Alloy heels and lowering - 17" split rims seem to be popular amongst Japanese owners. However, any alloys need to be Hub-Centric with the correct offset. The Early 90-91 cars have a higher ride height than the 92-on cars, and various lowering and stiffening spring sets are available.
Note: - For the handling purists, with the strut suspension of the MR2, you get the best performance with 15" wheels and standard springs and shock absorbers. Moving to larger wheels, lowering spring sets will compromise the handling of the car, unless other major work is undertaken.
Intake - replacing the standard airbox with performance Mushroom or Cone filters - The Apex-i Power Flow filter is a popular choice, and can be bought directly from Japan.
Exhaust - As detailed in contact points above.
Blow off valves - Vented to the Atmosphere to produce a 'woosh' when the throttle is closed on boost (e.g. changing gear). On the early 90-93 models this can cause the engine to stumble through a rich fuel mix when pressure is vented, as the air that was to be used to burn the fuel is lost from the intake system. This has other effects such as bore-wash, where the additional fuel may strip the protective oil from the cylinder walls, causing more rapid wear.
Turbo Boost pressure increases - Using the standard turbo with ECU, intake and exhaust upgrades, the upper limits to engine power output are around :

90-94 Turbos : 280bhp with 16psi, 17psi max
94-on Turbos : 300bhp at at 18psi, 19psi max

ECU - Many owners have had Unichip's installed, and report increased power as well as better MPG as the air/fuel and ignition timing is optimised.
However, at these maximum levels of power output you do run a significantly increased risk of engine damage and expensive repairs.
The MR2 Turbo was sold into the North American and South East Asian markets, each with slightly different specification, and engine control system. Most of the imports currently arriving in the UK are Right Hand Drive cars from Japan, and the information contained here relates to these cars.
To date, there have been five main revision of the Mark 2 MR2. The main visual features of each are as follows:
Item
10/89 - 12/91
(Revision I)
1/92 - 10/93
(Revision II)
10/93 6/96
(Revision III)
6/96 - 11/97
(Revision IV)
11/97 - on
(Revision V)
Front lower skirt
matt black
gloss black
body colour
body colour
body colour
Side line
matt black
black with 'tint' of body colour
body colour
body colour
body colour
Brake lights
square
square
round
round
round
Rear spoiler
3 pieces
3 pieces
1 piece with 2 legs
1 piece with 2 legs
Adjustable 'combat' spoiler
Front Fog lights
yellow
white
white
white
white
Toyota Alloys

14", Toyota 'T' logo in middle

15", flat spokes

15", flat spokes

15", chromed flat spokes
New 15" thin spoked alloys

Engine Power output (note US spec is 200hp for all years)

225 ps (220bhp)

225 ps

245 ps
(241bhp)

245ps

245ps
Options available for each year:
PAS, ABS options
PAS std, LSD, Airbag optional

LSD now standard

Clear indicators, European style side repeaters
Stereo back down to 6 better quality speakers
The MR2 in Japan was sold as either a GT-S or GT, the GT having a higher equipment specification.
The 'base' GT-S or GT was a hard-top, but could be upgraded at extra cost to a T-Bar. The GT-S has cloth trim, and GT has leather/ suede trim and extra features such as full climate control rather than normal air-conditioning.
The majority of the cars arriving in the UK seem to be hard-top GT-S and GT models sourced from Japan, but a few are arriving from the US as left hand drive cars - although these models are more common in Europe as they are left hand drive.
A Semi or Fully Synthetic Oil is strongly recommended for the MR2 Turbo. Heat from the turbo can break down non-synthetic oils.
Toyota specify a 10W30 oil for the engine, but UK dealers commonly use a 10W40 Semi-Synthetic, Castrol GTX Magnatec. This oil performs well, but appears to be easily 'used' by engines - any use should be revealed by the usual weekly fluid level checks.
Mobil-1 15W50 fully synthetic oil is recommended by many owners - it is available at larger motor factors. The more commonly available 5W50 and 0W40 Fully Synthetic oils have been found to cause excessive engine noise when the engine is cold, and are probably too thin for the MR2 Turbo.
Due to the large amount of heat generated by the turbo, a period of idling is strongly recommended after any hard runs, to allow oil to circulate past the turbo and cool it down.
The Japanese cars typically come 'loaded' with all sorts of additional extras, some not available on UK cars. Some of the options include :
Factory fitted air conditioning (or climate control)
Remote door locking
Electrically folding wing mirrors
Steering front fog lights
8 speaker sound system from '92, 7 speaker system from 90-92
7 position adjustable seats
Rake and Tilt adjustable steering
Current options to post 1994 Japanese specification turbos include: a Wireless door lock system, Recaro seats ('96 on), Traction Control, and a Toyota voice navigation system!
A small number of paint body colours were only available for the turbo, but some colours vary with different markets. The original paint number code is given on the chassis plate.
The Paint codes for the US Turbo are given here:
Toyota Paint Codes, Pages [ 1 :: 2 :: 3 :: 4 :: 5 ]
However, beware differences in paint codes for different countries, for example, the colour represented by the 95 US code number 742 is different from earlier Japanese cars with the same code number!
For all 90-92 models of the MR2 it is known that the Burgundy Red is susceptible to fading (oxidisation) if the car has not been regularly cleaned and polished in the past. Typically, pink 'spots' appear on the paintwork where water has been sitting, even on waxed surfaces. A mild abrasive T-Cut can help to remove them, and also they only seem to appear with warm wet weather in the summer - during the colder winter they fade away.
Other small dents and paintwork has been fixed by mobile suppliers such as Chips Away for as little as £35+VAT
Also see Contact Points above for second hand parts
All UK Toyota Dealers should be able to source parts for the Japanese Turbo, although it appears that some are less willing than others to go to the trouble of doing this. To get the correct part code of the item required, the dealer needs the chassis number and other data from the chassis plate under the bonnet. This is then sent on a fax to Toyota GB HQ with details of the part required, and Toyota UK then fax the part code to the dealer for them to order though the normal part ordering system.
If the part required is not shared with a UK model, Toyota will order it in from overseas - if parts are coming from Japan, this may take 3 to 4 weeks depending on delivery method. If this is the case, it may be quicker and cheaper for you to order the part directly from the US or Japan directly.
Toyota UK has issued guidelines to their dealerships, advising them that they can work on imported MR2's - However, some garages are still reported as being reluctant to do this, specially in the NW of England and around Reading. See contact points for details of where you can get your Turbo serviced.
Service intervals vary depending upon both the year of manufacture, and the different views of those involved.
Most importantly, regular oil changes are advised by the US workshop manuals at 4,500 miles, with the Oil filter being changed every 9,000 miles. Most UK Toyota dealers seem to work on the basis of the same intervals as the Celica GT-4, i.e. 6000 mile intervals.
Servicing costs for the Turbo at Toyota Dealers are usually based on the costs of servicing the UK Celica GT4: An 'A' service being around £90, a 'B' service £150, and 'C' service upto £350. Changing the timing belt at 60,000 miles is an engine out job, and a C service plus a timing belt change usually comes to around £500. Members of the UK MR2 Drivers Club may get discounts on servicing at dealers, but again some dealers are reluctant to provide any discounts to owners of imports.
Turbos normally have NGK platinum BKR6EP spark plugs, which should last 60,000 miles. Typically, replacements are around £15 each, but the standard copper NGK BKR6E NGK or more common Champion RC9YCC4 plugs (available at Halfords) are also a popular choice, if difficult to source. The standard gapping for plugs in the turbo is 0.8mm. For cars running higher than standard boost, Fensport supply a colder single platinum plug for £6.50+VAT.
Turbos have an appetite for the distributor rotor caps. The Aluminum contacts are progressively eaten away by the sparks jumping between the rotor and contact, resulting in an increasing gap and so a weaker eventual spark at the plug. Any problems with the HT system are exposed under boost as increased cylinder pressure requires a higher voltage spark to ignite the mixture.
Typical symptoms indicative of HT problems include loss of boost, and in extreme cases bucking of the car caused by misfiring when the turbo is generating boost.
See Contact Points above
The Japanese specification speedometer is, of course, in km/h and in the Mk2 MR2 is of two different types:
A cable driven version for the 90-92 models,
An electronic head unit for all 92+ models.
It is possible to directly replace a Japanese speedo head unit with a UK one of the appropriate type. The only official source of replacement units is direct from Toyota, although some owners have been able to install MPH speedos from scrapped UK cars. Prices for a new head unit vary from around £98 for a standard cable driven head to £140 for an electronic version.
Alternatively, a new face may be placed onto the front of the speedometer - these are available from many places typically at a cost of £40 - Exchange and Mart usually has plenty of adverts, but note that the odometer and trip meter remain in kms.
From the factory, the speedometer can over-read your true road speed by between 0 and 10%. Using a GPS receiver to give true road speed, and the standard 15" alloys with correctly sized tyres the following speeds at specific engine revs were found:
4k rpms in 3rd is about 53mph ( The rev limiter operates at 7,250 which would be ~93 mph)
3k rpms in 4th is about 51.5 mph
In Japan there is a legal requirement for all cars to have a speed limiter at 180 km/h, which is equivalent to 112mph. Most Turbo owners report a top speed restricted to approximately 5,250 rpm in 5th gear (about 125mph), and is said to be based around cutting the spark to the engine.
The speed limiter can be removed, and amongst other companies Intech (see above) will do it for approximately £180 + VAT, or this can be done as part of a Unichip ECU chip upgrade, which typically costs around £380 + Fitting.
Note: Many owners report that a side effect of having a speed delimiter fitted is that the Power Assisted Steering can become over-light, as the car thinks it is traveling at a lower speed than it actually is. (This is because the speed signal is also sent to the PAS ECU, and is used to judge the amount of steering assistance to be given)
Any removal of the speed restrictor may require a subsequent change of speedometer, as it is reported that the needle will hit the bottom of the dial at about 120mph, and some owners have had problems with needles sticking there !
Steering, Geometry and Alignments:
Also see Tyres and Wheels below.
MR2DC Handbook reports that SW20 steering geometry settings are:
Front track: 1mm +/- 1mm
Front camber: -50' +/- -30'
Rear track: 5mm +/- 1mm
Rear camber: -1.25' +/- -30'
The printout from an alignment completed on a 1993 Turbo by Elite in London is available here.
Due to the high rate of wear of tyres on the Turbo, it is recommended that a full four wheel alignment is completed every 12 to 18 months.
As for any high performance Sports Car, it is particularly important that wheel balancing, tracking and steering geometry are accurate, as incorrectly aligned suspension can result in poor road grip and rapid tyre wear.
For a computer controlled laser four wheel alignment expect to pay between £50 and £70, and the process will take around an hour. It is recommended that this is done at a specialist company, two of which are recommended are:
Elite, 136-138 New Road, Dagenham, Essex (Tel 01708 525577 ), 5% discount is available to MR2DC members, see magazine Vol 7, No 8 for discount codes.
Powerstation, Cheltenham
The 90-92 cars have 14" wheels with 195 (front) and 205mm (rear) wide tyres - in the wet, the power of the turbo will easily overpower the available grip so care must be taken.
From '92 the suspension was revised, to remove the tendency of the car to snap oversteer in the opposite direction, after the initial recovery of a skid. These models got wider wheels with lower profile tyres, combined with stiffer suspension, and rear stiffening braces over the engine. The ride is noticeably stiffer on 92-on cars than in the 90-92 cars.
Further modifications were made to the suspension for the 94+ cars, including a two stage damper to give a compromise of low speed comfort and high speed handling ability. However, the ride quality and 'firmness' subjectively is very similar for 92-94 and 94+ Turbos. For all years, the Turbo's suspension is stiffer than the equivalent Normally Aspirated UK or Japanese model.
For the Celica GT4 (which uses the same engine as the MR2 Turbo, the 3S-GTE) Toyota recommends a cool off idle period of three minutes following any hard use.
'Turbo Timers' often are fitted to Turbos in Japan by pervious owners, and these basically keep the engine running for a period of time after the keys have been removed from the ignition to allow the Turbo to cool. However, this may cause problems with alarm systems, in that it is not possible to arm an alarm if the engine is still running.
It is also worth noting that leaving a vehicle unattended with the engine running is strictly speaking an offence in the UK.
For all MR2s the timing belt should be replaced at 60,000 miles or 5 years. However the engine is a non-interference design, with valve shaped cut-outs in the heads of the piston so that, if a timing belt were to break the there should be no danger of damage.
However one owner unfortunate enough to test this 'feature' reports that after a belt snapped on his 1990 turbo some of the valves were damaged and bent in his engine.
Traction Control (TRC) was offered on MR2's from the 92 model onwards, and requires the ABS system. It functions by comparing the ABS speed signals from each wheel, and reducing the engine's output if needed by operating a second butterfly valve in the throttle body, restricting the intake of air.
From testing on a skidpan, the TRC is effective in preventing a tail-out (oversteering) skid, although under severe provocation it can be overcome.
Owners with TRC report that the car feels 'sharper' when it is switched off during fast road and light track use.
The turbocharger fitted to the MR2 from 1990 to 1994 is a twin entry ceramic Garrett CT26 operating at 10psi, similar to the Celica GT4 configuration of the same period. Turbo Technics in the UK report the CT-26 turbo as generally reliable if appropriately maintained, and reconditioned replacements are available for £450 based on exchanging the existing unit.
For the 1994 cars onwards a slightly smaller Garrett CT20 turbo is run at 13psi.
The workshop manuals give the standard boost pressure of the 90-93 turbos as between 8.5 and 11.5psi, with 10psi being normal. For 94-on cars the standard pressure was increased to13psi. Its is useful to have this checked when serviced or on a rolling road, to indicate any problems with leaking dump valves, which would reduce the power output of the engine.
A guide to the Celica GT4 turbo's working is available - the engine is the same as in the MR2, so much of the information is nearly identical, and it provides an excellent explanation of the basics of turbocharging.
There is a useful guide to checking the condition of your turbo here.
High performance tyres are very strongly recommended for any MR2, and especially the Turbo. All Turbos must have V or Z speed rated tyres, due to the speeds the car is capable of. Note the tyre wear on the inside edges of the front tyres is pronounced, and should be checked at each service.
On 15" rims, running soft performance tyres (S-03's) with a good wheel alignment, tyre life is around 20,000miles for the front pair, and 6-9,000 miles for the rear set, depending on driving style.
For modified MR2's producing more than 250bhp using the 15" rims, even with very high performance road tyres it will be possible to break the rear tyres loose on a dry surface, and even more easily on a damp one.
Commonly reported choices of tyres are:
89-92 year cars: Running 14" Toyota alloys restricts the choice available - Yokohama A520's are recommended by many owners, even over the newer A539 pattern which seems to grip less well but be longer lasting. Many owners upgrade to 15" alloys from later cars, but ensure you get the lug nuts to go with the 15" alloys.

92-on cars : Bridgestone S-03s are , beating the the OEM Yokohama A-022 and Pirelli P-Zero due to its amazing grip in the wet, although in the dry all three tyres are near equals. Cost of a set of 4 S-02's for 15" alloys is around £380.

Cheaper, longer lasting performance tyres for the 15" alloys include the Yokohama A539, and new Falken FK-451 (GR-Beta). These tyres have around 80% of the grip of S-03's, but will last longer as they are a harder compound. A set of 4 A539's or FK-451's will cost around £320 for 15" alloys if you shop around.

Note: Many owners opt for the slightly more expensive S-03's as the difference in cost is less than most insurance policy excesses!
The standard Toyota alloy wheels for the 90-92 cars are:
Diameter 14" front and rear
Width 6" front and 7" rear
Offset 45mm front and rear
PCD: 114.3mm
Front tyre: 195/60 x 14", 29psi
Rear tyre: 205/60 x 14", 32psi.
The original tyres were Continental, but after poor reviews uni-directional Bridgestone Potenza RE 71s were fitted to the MR2, but now often replaced with the Yokohama A520's.
From 1992 onwards wheels are:
Diameter 15" front and rear
Width 6" front and 7" rear
Offset 45 mm front and rear
PCD: 114.3mm
Front tyre: 195/55 x 15", 29psi (Some owners prefer a more easily sourced 205/50 x 15" to reduce understeer)
Rear tyre: 225/50 x 15", 33psi.
Original tyres are Yokohama A-022's, and wear rate is high. Bridgestone S-02's are the usual replacement type.
Tyre wear is most rapid on the inside edges of the front, and outside edges of the rear tyres, if the suspension is correctly aligned.
If non standard alloys are fitted to the car, it is recommended that you keep two size differences between the front and the rear tyres - for example, using 17" rims 215 width tyres could be fitted to the front and 235 width tyres fitted to the rear. This helps keep the balance of grip front to rear roughly the same as with the OEM tyres.
When fitting alloys, some owners have reported problems with poor casting of alloys resulting in them being porous, allowing air to escape slowly and the tyres to deflate over a couple of days.
Some IMOC-UK list members have had their factory standard wheels refurbished, and the following have been recommended:
Pristine Alloy Wheel Refurbishers in Milton Keynes, Tel: 01908 282628.
Note they have a UK dealer network who will take your alloys in for refurbishing, and send them back to Pristine. Typically it takes 5-7 days to turn around a set of 15" alloys, over which time your car will be off the road. Cost is around £230 to have the wheels stripped, re-painted, baked and lacquered, with the plastic center caps being refurbished with the same paint.
Metal Magic, Barnsley, Tel: 01226 298544
The windscreen on the Turbo can either be a standard single glass part, or for cars with the Toyota 'premium sound system' an AM ariel is built into the windscreen - this is noticed as a pair of black lines running down the center of the windscreen and around the edges.
For early Turbos the standard Japanese market tint was Bronze, with a darker bronze band at the top of the windscreen. Later in the production, the colour moved to the UK standard blue-tint windscreen.
If you are getting a replacement windscreen, ensure the glass tint is correct - a few owners have reported blue UK tinted glass being mistakenly fitted to earlier Japanese models that have a bronze window tint, resulting in the windscreen being one tint and all the others glass another tint.
Replacement windscreens are readily available in the UK through companies such as Autoglass, but if you need a replacement windscreen that includes a built in AM ariel then this will have to be ordered through Toyota, and typically takes around 3 working days to arrive.
There is an enormous amount of other information available on the MR2 turbo, but most of it relates to the 200 bhp US version of the Turbo - however an excellent starting place is www.mr2.com , the Main International MR2 Owners Club (IMOC) Page.
Other pages worth visiting include:
http://www.imoc.org.uk/ : The IMOC-UK website, including the ever expanding how-to section
http://www.mr2.com/Articles.html : Excellent source of advice covering a vast range of fixes, upgrades and oddjobs that can be done by yourself on your MR2.
http://www.mr2.com/FAQ.html : A vast FAQ, but covering all versions and types of MR2's and mostly aimed at US owners.
http://www.webring.org/cgi-bin/webring?ring=mr2;list : The MR2 Webring of other owner's sites, with details of their car's modifications etc.
Other Sites created by UK owners of MR2 Turbos:
Trevor Mensah's 1995 Turbo: Good for information on the Revision III onwards cars.
Rob Ferris's '94 T : Rob has fitted a Unichip to his 94T (giving 280bhp), and has a few tales to tell ..
Mitch Canny's Turbo: Including the Insurance advice page
---