Well it all began with a base model 1991 120bhp UK Coupe with a 3S-FE engine which I bought in December 1996, with 72,000 miles on the clock. This was the car that really got me hooked on MR2's - the 120hp engine wasn't very powerful, but the handling always brought a smile to my face.
After 18 excellent months driving it (and feeding it 10W40 engine oil) I started looking for a replacement MR2 - initially it was going to be a UK spec MR2 GT with 158hp, but when I test drove a 1992 Japanese MR2 Turbo out of curiosity I knew that this was the only way to go - 220 bhp with an unforgettable combination of low end torque and top end power all thanks to the Turbo. Even with the added hassles of getting parts and insurance for a car that was never sold in the UK, I decided it was still well worth it.
I then spent 4 months looking for a non modified MR2 Turbo, in good condition with service history. Having seen 6 or more Turbos, I found very few that were both unmodified and in good mechanical condition - many arrive in the UK direct from Japanese auctions, and so their quality is very variable. The car I bought was the only one that was in good original mechanical condition, with a low mileage, and even a service history - something very rare for an import.
The MR2's Mid-engined Rear wheel drive layout gives it true sportscar balance and handling, thanks to an evenly balanced chassis. This makes the MR2 a really rewarding drive, with opportunity for 2nd gear grin-inducing oversteer on demand. Car Magazine in the UK did a tongue in cheek review of a Modified MR2 turbo - and they obviously had fun getting it sideways, but an unmodified car would be much harder to get out of shape.
Serious driving..
OK - The MR2 looks great, has a bomb-proof engine and does the 0-60 sprint far faster than all 'shopping trolley' hot hatches. If this is all the MR2 means to you... I'm sorry but you're missing the point.
A car like the MR2 really rewards when being driven.
Over the last few years I've wanted to learn how the car handles on the limit, and what the limit 'feels' like. I've done a number of Skidpan courses at the Suffolk Police HQ (driver training notes available here) at first to understand the basics of understeer and oversteer, followed by more advanced wet handling course run by Driving Techniques at MIRA, and more recently having fun putting it all into practice at a number of Airfield trackdays run by Bookatrack.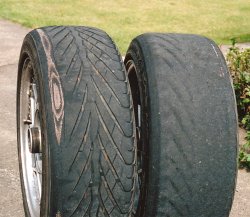 Airfield Trackdays
Airfield trackdays are ideal for finding and pushing the limits - the MR2 is a surprisingly track-able car, providing you prepare the car well before and maintain it afterwards - the main consumables are Petrol (one tank at least, 5mpg!) tyres, and to a much lesser extent brake pads and engine oil. Each time I've come back from any of these events, I've been amazed at how much more capable the MR2 is than I thought.
If you're planning on doing a few trackdays, its useful to have a separate set of 'trackday' rims and tyres, so you can use one set on track and then drive home on a legal set of tyres. The Bridgestone S-02 tyres shown on the right had 2mm of tread on them at the start of the trackday, but the front tyre had worn down to the canvas by late morning and the rear was completely smooth by the end of the day, with a little canvas showing.
Some Books I'd recommend:
If you want to learn more about car handling and driving techniques, these three provide an excellent background.
Novice - Porsche High Performance Driving - Vic Elford (7/10)

Definitely the book to buy first if you're new to high performance cars, covering the basics, with the odd anecdote from Vic's days of glory racing various types of Porsche GT car. Look past the Porsche-centric view of the world and you get a very sound introduction to the basics of car handling characteristics, skid types and correction techniques.

Intermediate - Going Faster - Mastering the art of Race Driving - Carl Lopez (10/10 - buy it!)

An excellent book, covering car supension setup as well as driving techniques. Its really aimed at single seat racers covering topics like refining lines through corners - but it is still useful for the likes of Airfield trackdays. Much more detailed than the Vic Elfords book above, but perhaps not the first book you'd want to read on the subject.

Advanced - Speed Secrets - Professional race driving techniques - Ross Bentley (7/10 )

Similar to Going Faster, but presented totally from the drivers point of view avoiding the setup details behind what you're doing. Most useful are the 'speed secrets' which are 34 tips and tricks for driving on the limit - the book also contains some perceptive 'insights' into what makes a 'fast' driver
The work I have done recently on the car has been with the aim of allowing the car to be enjoyable on the road as well as at Airfield Trackdays. Suspension and braking components have been replaced or upgraded, and work on the engine has been with the aim of improving throttle response and removing lag, with resulting power increases being a bonus.
Upgrades to January 2002
In the 3 year's I've had my Turbo, I've been slowly tracking down and sorting a few things out to ensure the car is 100% - there are lots of little modifications I've made to my MR2, but off the top of my head I've currently got:
Hayward and Scott custom stainless steel exhaust system, 3" bore

Apex-i Power Flow Intake from Japan

Grainger boost controller to give 14psi and 250-260bhp at the engine

Zener Diode Fuel Cut Defender

Marc Summers Copper Contact Distributor Cap

Turbo VSV Manual over-ride ( 8 or 14psi of boost over-ride, or ECU set boost)

New Bilstein suspension struts all around

DOT 5.1 Brake Fluid

NGK BKR7EVX Platinum spark plugs gapped to 0.8mm, new spark plug lead set from US

Eccentric T-Top guides to stop leaks from the T-Bars

Refurbished 15" rims

Bridgestone S-03 tyres all around, 205/50R15 on the front and 225/50R15 on the rear.

Black Diamond 12 grooved front brake discs

Pagid Fast Road and Competition front and rear brake pads, new brake shims

Redline MT-90 Gearbox oil

Engine run the last 70k miles on Synthetic Oils, including Mobil1 Motorsport 15W50, Castrol RS, Halvoline Synth Power

Rear brake like and fog light conversion to operate similar to UK spec MR2's.
Hayward and Scott Exhaust - November 2001
I was looking for a replacement for the standard Toyota system to help reduce the turbo lag. The way forwards here was to fit a cat replacement pipe and free flowing exhaust.
Hayward and Scott are well known for their full stainless hand made systems, produced for Ralliart, Scoobysport, Porsches, and many Japanese imports. Because of this, and their experience with Celica GT-4s John Luck and myself met up with them to discuss what they could do for a MR2 Turbo.
We agreed they would produce a classic Y design system for our MR2's that wouldn't be louder than 98dB to meet trackday noise limits, with silencers in each branch of the Y shape and dual 3.5" tips rolled in. I was also going to get a cat replacement pipe, as a loophole in MOT tests allows imports with no direct UK equivalent (upto July '95) to have a non-cat test.
John Luck kindly left his '2 with them for a week so they could use his car as a template against which to design the exhaust - I was to turn up one Saturday morning and they'd then fit my system. I was warned it could take upto 5 hours to remove the old cat and fit the new system, so I had to be there early ..

After steam cleaning some oil off the sump of the car, the back box quickly came off, and the centre section was 'assisted' off with an oxy-acetylene torch..
While this was going on, I was checking out the new exhaust sections waiting to be fitted to the car - the flanges were a substantial 8 to 10mm thick.

The exit from the cat replacement pipe was 3" diameter - I was impressed that the insides of both sections of pipe had been worked perfectly smooth to aid the flow.

The A4 sized PC magazine alongside the cat replacement pipe and centre pipe with flexipipe section gives you an idea of how big these are !
The old exhaust took about 3 hours to completely remove - the most tricky part was getting the cat off the 90 degree elbow after the turbo. Luckily, only one bolt snapped as it was coming off, but this was easily replaced.

The catalyst element turned out to be loose inside the cat converter, and was resting on the temperature probe - the outside edge and centre elements were slightly crushed, but you could still see through it.
After spending 3 hours removing the old system, it took about 2 hours to fit the new one, and adjust everything to fit well.

The first picture on the left shows the centre section and first part of the rear section installed, with the offside exhaust section fitted. These are the largest silencer boxes they could fit under the '2, but are setup as straight through boxes.

The finshed system on the car is on the right - click for a large image!
Rolling Road - 1999
Having had the car for 10 months, it was due an expensive 48,000 mile C service - having got it back, I was really pleased with how the car was running - a number of small problems had been sorted out, and I was looking forwards to seeing if the car was 100%. I also wanted to try two modifications to the car that are detailed on MR2.com - see the pages on the Zenier Diode fuel cut defender and a method of increasing the boost at the end of this write up.

A group of us visited Gerald Dale Motorsport to use their rolling road before the MR2DC AGM in '99. It was good to see a number of Minis being race prepared there, one of which had won at Silverstone the previous weekend - these folks obviously knew their stuff.
The baseline runs showed that the car was running exactly to the Japanese spec, putting out 220bhp as expected, when using 98 Octane Super Unleaded fuel. Having done the runs, I then let the car cool off before diving in and making the boost modification to run a few more psi of boost. The results were very impressive - the car was running a safe 13psi with the standard Toyota intake and exhaust which are fairly restrictive. Power increased from 220 to 250bhp, and most noticeably the torque increased by nearly 25% to 254lb/ft.

The display on the right shows that the car was generating 205 rear wheel bhp at 112mph - not bad at all !

The plots below give the power curves - click on the graphics for a higher resolution image.
Power

220bhp@10psi to 250bhp @ 13psi


Torque

From 209lb/ft to 254lb/ft at 13psi

With a car this capable, there's no point skimping on tyres for an MR2 - you need some which will provide grip to handle the car's ability to accelerate, brake and corner.
In my view its worth paying slightly more for a better set of tyres - this small extra cost being much less than the excess on an insurance claim! High performance tyres needn't cost the earth either - Bridgestone S-03 are better performers than most Pirelli and Michelin tyres, and are cheaper too. Shop around - you shouldn't be paying more than £100 for a rear 225/50R15 tyre.
Currently I'm using Bridgestone S-03 tyres, (205/50R15's on the front, 225/50R15on the rear) and I have found that a slightly wider tyre on the front makes the car's handling very neutral and rewarding. For Airfield trackdays I've got a separate set of 16" rims, on which I have used Falken FK451's, Bridgestone S-02's, Yokohama A539s and Goodyear F1s.
I had previously run A520's on the front of the car, and S-02's on the rear which gave me a little understeer on wet roundabouts. Both the below tyres have long since been worn smooth and are used as expensive boat stands - the rears lasted 12.5k miles, and the fronts 19k miles.
Front :

Yokohama A520's in a a slightly wider than standard 205/50 15" size, to reduce understeer.
(Recently swapped for S-02's)

Rear:

And Bridgestone S-02 Pole Positions for the 225/50 15's on the back - these are seriously sticky tyres!
Well, the short answer is a heck of a lot - the engine which powers the MR2 turbo is the same engine (3S-GTE) as is in the Celica GT4 turbo, delivering around 220bhp in the 1993 model year. They're as tough as old boots, as you'd expect of any Toyota - from the US MR2 mailing list, there are cars that have done over 230,000 km. There are a number of UK Spec Mk2's I have driven, one with 156,000miles, and the other with 130,000 miles, both of which were still running strong, so there is plenty of life in the engine!
The turbo itself is reliable, but you need to bear in mind that after a hard drive the turbo ideally needs a cool-off idle period. If the engine is shut down with the turbo too hot, it is possible that the heat could cause non-synthetic oils to break down, and it is possible that the oil lines going to the turbo over time become constricted by oil which is baked to the walls of the feed pipes. This can then lead to lack of lubrication and eventual turbo failure through oil starvation. I generally ensure I drive the car gently on the last few minutes of any journey allowing it to cool off - and then let it idle for a while once parked whilst I sort myself out.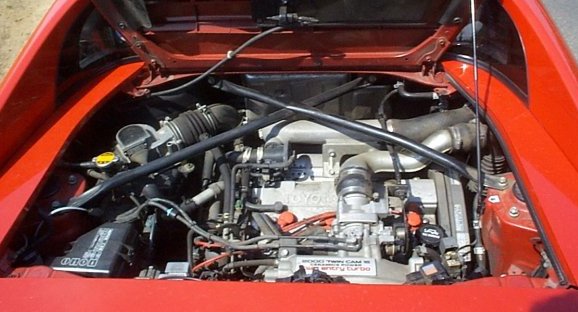 The basic engine layout from back left to right is airbox with Air Flow Meter (AFM), turbo (under the crossed braces) air to air intercooler (RHS) and throttle body bottom middle. The timing belt is crammed against the RHS rear turret, so changing the timing belt is usually an engine out job, purely due to lack of space, and risk of damage to the Intercooler. The diagnostics connector and boost pressure sensor is just to the right of the red 'twin entry turbo' plate - the black box is the boost pressure gauge, and the open grey box is the diagnostics connector.
In terms of performance, a 0-60 time of 5.8 seconds or there abouts is possible with a standard engine - all the turbo's torque and power allow it to comfortably beat the standard UK MR2 to 60mph by over two seconds. But this is all in a straight line - the MR2 is most fun in the twisties ...
I'm not at the cutting edge of In Car Entertainment, but I do want my MR2 to sound good for those unforgettable sunny days driving along country lanes with the T-Tops out... Currently I've got a Kenwood 8080R CD-RDS head installed (bought on line via Edworthys), and it sounds great. I've also swapped the in-door speakers and tweeters for a set of JBL GT 6.0c separates which have improved the detail and stereo focus, but lack a little low end punch - however this is filled in well by the factory subwoofers behind the driver and passenger.
These Japanese stickers were on my car when I bought it, and as I can't read Japanese characters, I was interested to find out more about what they mean, and asked anyone who knew what they were to drop me a line.
Tony McDaid was kind enough to do exactly this when he read this page - Here's his explanation of what the two stickers above mean:
Hi,

I was just looking at your web site and in particular the MR2 pages- what else?! I'm a '89 MR2 Turbo owning Brit living here in Japan and I thought I'd help you out with those two stickers. The one on the left is the police sticker that proves that you have an approved car parking place. You car comes from Koide town in Niigata Prefecture- it's in the north of Japan and not that far from where I live. It's in snow country too, maybe 2 metres plus every year! I get quite a bit of snow here but they REALLY get it! The one on the right says to only use premium petrol.
David Heard also read this page and saw the stickers, and provided some interesting additional information, including a link to the town where the parking permit is from - looking at the web page, it looks quite mountainous and possibly fun to drive - a good place to own a MR2!
Just taking a look round the MR2 pages when yours caught my eye. Nice car. I spent some time in Japan and so thought I'd let you into the mystery of the Japanese signs. (That is if you haven't already solved them.)

The big round one is a car parking permit. It says "Hokan Basho Hyoushou" Literally translated means something like "Storage Place Indicating Sticker" The smaller writing underneath says that it is from "Koide Town, Nigata
Prefecture" and issued by the "Koide Police". Nigata is famous for rice, sake (Japanese wine) and of course its mountains. Pretty cold in winter!

Check out http://www.mars.jstar.ne.jp/~hohoron/koide/index.html for some pics if you are interested.
Thanks should also go to Chris Eastman and Mika for providing another take on the stickers :
The first blue one with 6 big Chinese characters is a permit for a car storage (HO-KAN-BA-SHO-HYOU-SHOU). Underneath is the permit number and, I think, the address of the storage (NII-GATA-KEN O-GAWA-CHOU). It
looks like this car came from Ogawa town in Niigata, where is famous for snow and rice.

The little orange sticker is very hard to see. Only thing I can read for sure is a Katakana part. It says 'PU-RI-MI-A-MU (Premium)'. The first part of that sticker probably says 'MU-EN (Unleaded)' The white one is too blurred, but the last three characters say 'PU-RA-SU (Plus)'.
And last but not least, Kuroyuki who took the trouble to e-mail me in English even though it isn't his first Language. With his help, we have worked out that the car was previously owned by Japan Energy, and probably only had one owner from new.


Back to Ben's homepage..